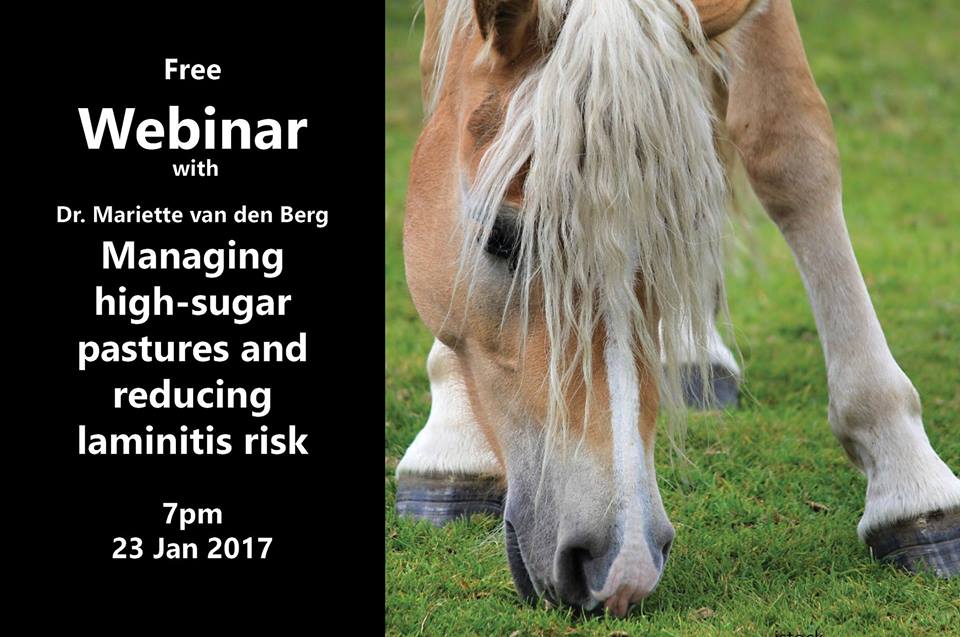 Event Details
Warmer temperatures and longer days trigger the growing season. Pastures become lush and store more sugars for growth and reproduction. This is the time when owners of horses that are sensitive for developing laminitis are starting to worry about the well-being of their horse. However, while most cases of laminitis happen during these growing peaks, laminitis can happen throughout the year and on different pastures including temperature and tropical. In this webinar we will discuss what makes pastures accumulate sugars, which pasture/legume species to watch out for and how to best manage pasture and horses to reduce the risk of laminitis.
Mariette has recently finished a PhD in equine behaviour and nutrition. A registered animal nutritionist, Mariette is also a Certified Permaculture Designer. Through her business, MB Equine Services, Mariette provides professional and practical information about horse behaviour, nutrition, management, (forage) enrichment and slow feeding and property design.
Register here:  https://attendee.gotowebinar.com/register/3923607621861084418
After registering, you will receive a confirmation email containing information about joining the webinar.

"This project is jointly funded through Adelaide and Mt Lofty Ranges Natural Resources
Management Board levy, HorseSA (www.horsesa.asn.au) and the Australian Government's National Landcare Programme" http://www.naturalresources.sa.gov.au/adelaidemtloftyranges/land/landholder-services
Event Sponsors