By Cristina Wilkins (Director, Editor in Chief of the Horses & People Magazine)
I have always believed in caring for, rather than caring about horses. This principle was firmly instilled by my parents from a young age and probably guides most of the things I do in life. I didn't always define it as well as that, I borrowed those clever words from Prof Daniel Mills, the UK's first Professor of Veterinary Behavioural Medicine, after listening to him speak about horse welfare at the 2011 ISES conference in the Netherlands.
A single word can make such a difference. As Prof Mills explained people that care for others are willing to invest their time and energy into their care, sometimes at their own personal cost, rather than simply talk or campaign about it.
It is taking responsibility and that's why integrating permaculture principles to how I manage my horses appealed from the first moment I learnt about them – for me this approach is the closest you can get to holistic – you care for your horses if you care for their mental and physical wellbeing, their environment or area they live in, the plants they eat, the soil that feeds those plants and of course the humans that share those spaces – yourself, your family, your community.
They say that luck happens when preparation meets opportunity and our luck started back in 2008 when I read Peter Andrew's book 'Back from the Brink'. We were in the middle of a long drought, and the way the book spoke about how water moves over the landscape and how we can hijack nature's principles to hydrate our farming lands, improve our soils and the health of those who live on the soil, really struck a cord. At that time my husband and I were longing to move from our 5 acre suburban block to a larger rural property with endless views and, as things go, opportunity knocked – we put our place on the market and soon after, a young couple turned up for a nosy peek. They weren't really intending to buy but (as 'luck' would have it) one was a permaculture consultant and the other an equine nutritionist recently arrived from the Netherlands! Meeting Nick Huggins and Mariette van den Berg was the start of a great journey and a steep learning curve!
We found 'our block' very soon after, 80 acres of 'blank canvas' with beautiful views, gently rolling hills perched on the edge of what they say is the 7th most fertile valley in the World, organic farmers for neighbours, a quaint historic cottage (which would be our temporary accommodation until we built our family home), and no mains power but a great stand-alone solar system. We really were diving into the 'permie' self-sufficient lifestyle head first!
We embraced the opportunities that had presented themselves and commissioned a permaculture design for the property which was duly delivered and beautifully presented. It contains a lot of information and links to the resources needed to 'make it happen' but looked like a daunting project. Had we taken on more than we could cope with?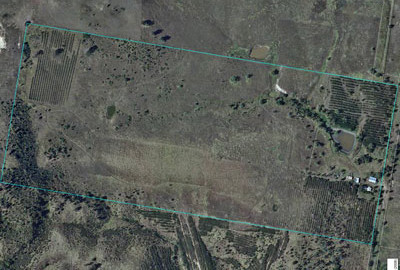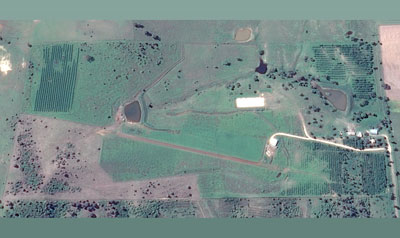 Blank canvas and current layout after implementing Permaculture principles
The next best lesson was truly understanding the reason for "Water before Access before Buildings". If this is the one thing you take out of reading this blog, you will never be disappointed. We are now five years down the track and despite still waiting for that dream family home (with an inside toilet!) and the stable block to be built, sticking with the Water – Access – Buildings principle is really paying off.
The biggest financial investment in the land so far has been repairing the existing dams, digging swales and turning what was a small muddy hole into our biggest dam – perfectly placed by Nick Huggins on the keypoint of the land. Every time I walk up to the top dam I am grateful for the insight of P.A.Yeomans and the first 'permies' who have kept the knowledge flowing. The feel you get when you work with the land's contours, valleys and ridges is hard to explain, one of those things that has to be experienced.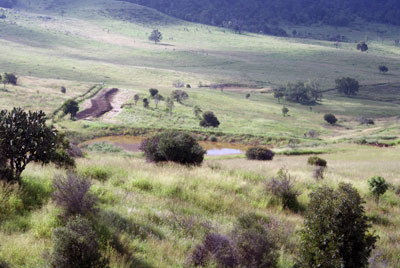 Another great lesson I have learnt is that electric tape and pigtail fence posts are my friends. Not only are they a cheaper and easier alternative to permanent fencing, they work in containing the animals and you are not stuck with paddocks of the wrong size and shape or in the wrong places. They give you time to figure things out and you can remove them altogether for easier paddock maintenance. The only permanent fencing that is necessary is along the boundaries – especially to foster good community relationships! as well as waterways, swales and dams to prevent stock from damaging the fragile soils.
My personal journey is ongoing and I do not think of myself anywhere near a 'real' permie. As I learn I try to figure out how to integrate and implement the principles. With the help of better seasons in the last five years and all the energy and labour my husband is investing I can see the land is already responding, something which is reflected in the condition of the animals that live here!
Cristina will keep us posted on her property's progress and will write some more blogs on specific projects such as tree planting, hydration and horse paddock design. Stay tuned!
Cristina has been with Horses and People since 2005 and is the editor and designer for the magazine, becoming Maxine's business partner in June 2010. To read more about Cristina go to our team page.